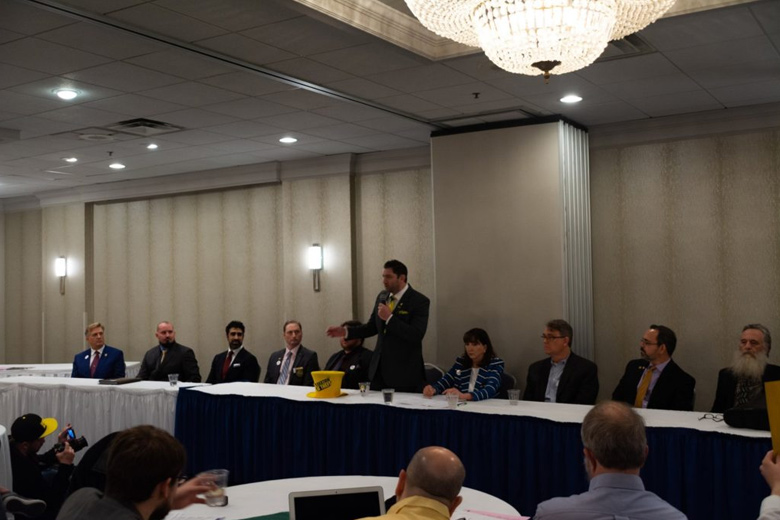 New Hampshire has a history of exciting results in presidential primaries. The Live Free or Die state is known for its First In the Nation Primary and retail politics, where future presidents speak one-on-one with citizens throughout the state in coffee shops and diners, often with unexpected results.
In that spirit, the Libertarian Party of New Hampshire announced their first Presidential Preference Primary in October. Without official ballot access, LPNH decided to self-fund a mail-in ballot primary outside the control of the State of New Hampshire. Libertarian POTUS and VPOTUS candidates filed a $25 filing fee (as opposed to the Secretary of State's $1000 filing fee) to the party to offset costs between October 31st and November 15th. Postage and materials were donated to the party by generous anonymous members, and ultimately, the primary was accomplished with zero cost to LPNH. To qualify, candidates must be legally qualified to be President, and not be a member of a party other than Libertarian.
Bucklin Ranked Choice was the ballot method chosen, where voters choose their first and second picks, and then used Approval voting for the third round, where they can choose as many or as few candidates that they approve of. Write-in votes were allowed and None of the Above (NOTA) is always a choice in Libertarian Party elections. Multiple prominent candidates, like Lincoln Chafee and Jacob Hornberger, announced after the 11/15/2019 deadline.
In late November, 110 ballots were mailed to LPNH Convention Delegate-eligible members, with instructions to either mail them back to LPNH or to turn them in at the LPNH Annual Convention after the POTUS Debate at 10:30am on Saturday, January 11th. Ten Libertarian Presidential candidates debated issues facing the Libertarian Party and the nation, hosted by Libertarian Party Executive Director and former LPNH member Dan Fishman.
After the debate, ballots were counted by prior LPNH Chair and former LP POTUS Candidate Darryl W. Perry and LPNH Chair Brian Shields, witnessed by Vice Chair Richard Manzo and Secretary Chip Spangler. Each round was counted until a candidate achieved a majority of approval from voters, which was achieved in the third approval voting round.
The full round-by round official results are below. Write-In Candidates are noted by an asterisk (*).
2020 LPNH Presidential Preference Primary Results
44 Ballots Cast out of 110 Eligible Voters
President
| | | | | | |
| --- | --- | --- | --- | --- | --- |
| | | | | | |
| | | | | | |
| | | | | | |
| | | | | | |
| | | | | | |
| | Dan "Taxation Is Theft" Behrman | | | | |
| | | | | | |
| | | | | | |
| | | | | | |
| | | | | | |
| | | | | | |
| | | | | | |
| | | | | | |
| | | | | | |
| | | | | | |
| | | | | | |
| | | | | | |
| | | | | | |
| | | | | | |
| | | | | | |
| | Exhausted Ballots/Undervotes | | | | |
Vice President
| | | | | | |
| --- | --- | --- | --- | --- | --- |
| | | | | | |
| | | | | | |
| | | | | | |
| | | | | | |
| | | | | | |
| | | | | | |
| | | | | | |
| | | | | | |
| | | | | | |
| | | | | | |
| | Exhausted Ballots/Undervotes | | | | |